Whipped Butter Body
Mermaid Butter is homemade with all natural, organic ingredients, and without any synthetic chemicals. It's made with shea butter, mango butter, coconut oil, sunflower oil, local beeswax, and arrowroot powder. 100% pure essential oils can also be added.  Use as a moisturizer for hair, body, face, and as an after-shave!
Featured Collection!
Whipped Coconut Sugar Scrub
All new and all natural handmade sugar scrub with the finest ingredients available. Customized with flowers, essential oils, and powered vegetables for color. Super moisturizing while gently exfoliating your face and body. Wash away dead skin and bring out new radiant skin. You will love how light and fluffy this product is! Made using sustainable packaging. 
Ingredients: Sugar, Organic Coconut Oil, & Pure Meadowfoam Seed Oil. Customized with 100% Pure Essential Oils, Flowers, and all-natural vegetables for coloring (Organic Beet Root Powder, Organic Turmeric, or Pure Blue Spirulina).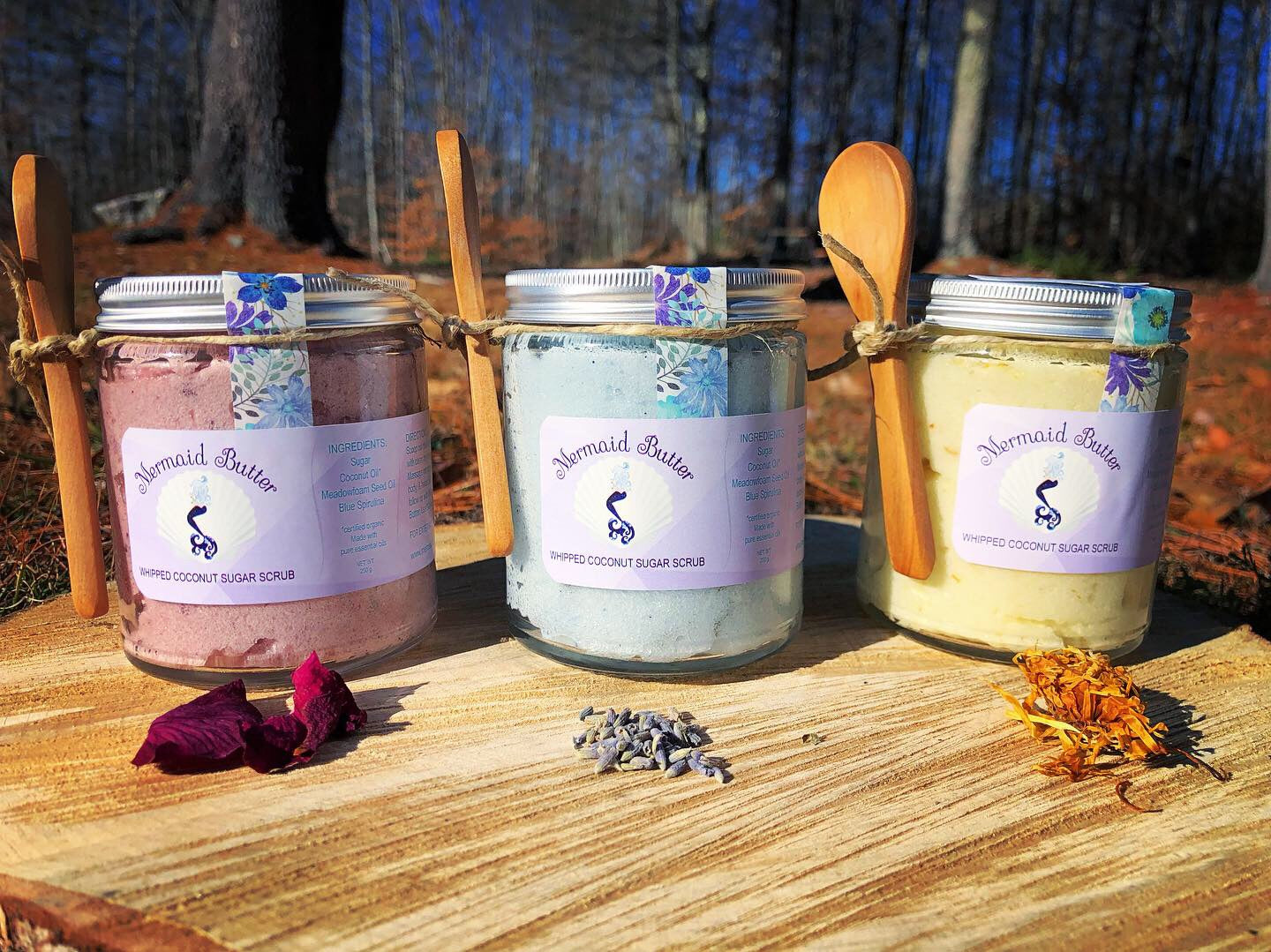 Once your order is placed, we will contact you regarding current essential oil blends available to you!  We are also happy to make custom scents on request.
Upcoming Events
Fall Scented Body Butter & Coconut Sugar Scrubs
Saturday, October 7th, 9AM – 3PM
Orchard Ridge Farm
236 Sebago Lake Rd, Gorham, ME
Sunday, October 8th, 10AM – 3PM
Balsam Ridge
140 Egypt Rd, Raymond, ME
Saturday, October 21st, 10AM – 3PM
Sweet Meadow
58 Maplewood Ln, West Durham, ME